Testimonials
What our customers are saying.
---
What they are saying about us.
Customer Testimonials
I had a deck completed late last season and was more than pleased with not only the final product, but the process as well. Originally when I had my deck project quoted out, I had three companies come by my house to quote out. Two of the companies were out of the phonebook; the other was a recommendation from a friend. Luckily for me, the recommended company was Decks By Design. When Paul came by the house he must have spent well over an hour with me and my wife. Not only was he taking measurements, he also gave us functionality ideas and general things we needed to think about before making a decision. By comparison the other two builders came by, took measurements, and left right away. When the proposals came back, Paul's was the best by $2,100. Construction went smoothly, and not only that, even more importantly him and his crew kept my backyard clean for my dog to roam during the evenings. During the process, we would get home from work and shown the progress of the day to our satisfaction. We were extremely impressed after completion, when Paul followed up with us twice. One time two weeks after, the other at the end of the season just into Fall to make sure we didn't have any popped boards or anything that needed repair. Suffice to say me and my wife enjoy our deck immensely and recommend Decks By Design to any friends looking to have a deck built.

- Bob (Amherst)


Really enjoyed working with Decks by Design. From the estimate to proposal to completion, Paul was very professional and accommodating. Our deck looks beautiful. We highly recommend.

- Andy & Diane (Amherst)



Paul Summers is very professional and caring about the work that he does. Paul spent a lot of time with my husband and I to help design our deck. Other contractors we meet with did not spend the quality time to get our input on what we wanted.

- Rick & Linda (Tonawanda)



We love our deck. These guys do beautiful work. I came home in a rain storm to Paul and his son building our deck. They were covered in mud but the deck was perfect. Now that's dedication to the client. Paul listen to what we wanted and design this awesome deck for us. If you are thinking of building a deck you will not find anyone as knowledgeable, friendly and professional as Paul and his crew.

- Tom & Becky (Cheektowaga)


"My wife and I wanted to remove the old, smaller wooden deck we had and replace it with something that made a statement. Decks by Design worked with us incorporate our ideas with their own, and we couldn't be happier with the result. Our new deck has built in LED lighting, a portable bar, and a circular area for seating. And best of all it's virtually maintenance free. Very pleased with both the quality and cost of the finished product."

- Dan (Amherst)

"Paul and his team did a great job for us from start to finish. We requested a large deck job that required integrating the new deck and roof into the existing house. They pulled it off just as we requested. The crew led by Paul Jr. were very polite and professional and responded to each of our requests with a smile and can do attitude. We have had employed various contractors in the past some good and some really bad. I would rank Decks by Design as the Very Best. Thanks for the great work guys!!!"

- Christopher Golinski

Deck's By Design did an AMAZING job on our deck design and construction. My husband and I could not be more pleased. We had numerous quotes from several well-known companies, some more commercial than others and NOT one could match their design, price and professionalism of this local company. Our backyard is challenged. We have a moderately sloped and small yard, so the design needed to be functional, spacious to entertain, yet it couldn't be too big. Paul Sr. and Paul Jr. were professional, creative and engaging. They asked questions, listened and guided us through the phases and development. As the patio was evolving, the team came up with additional cool tweaks. We absolutely LOVE our patio now and spend much more time outdoors in our own backyard than ever before. The team was always there on time and worked so hard. We are thankful for their strong work ethic and dedication to excellence.

- Carolyn N.


Paul helped us design a composite deck and paver pathway. He was friendly, patient and always there for us to answer questions, from beginning to end. We changed our minds on colors and design and he remained always helpful. His crew came and built an immaculate deck for us and beautiful walkway. Everything Paul promised was exactly what we received. The attention to detail is second to none. His guys are not only excellent craftsmen but they are friendly and professional as well. They cleaned up and hauled away all debris and materials. My wife and I will certainly call them again for future projects.

- K.I.


We could have not made a better decision with choosing Decks by Design. We liked the way things were explained to us, but the final deck was more than we had expected. The different detail that we did not expect. The worker's were very respectful of our property and did clean up everyday before they left. We love showing our new deck off. Thanks for a very positive experience.

- Sandra C.


We recently had a deck built by Decks by Design. We met ***** **. during our visit to the Buffalo Home Show this past winter. He was one of the few vendors that didn't pressure us into making a quick decision to make a purchase. The information he provided about materials, etc.made it easy for us to decide to move forward with the construction. We made an appointment and he and his son, **** *** came to our home to discuss design and cost. The design was just what we envisioned and the price was so affordable that we contracted during their visit. We were given a date when the construction would start and even though the start date was months away **** kept in contact with us. Construction started on the promised date and construction was completed earlier than we had expected. **** and his crew were very professional and personable. They treated our home and yard as if it was their own. Last year we had a sunroom added to our home and the deck looked as if it was built at the same time as the room. We are so happy with the finished product. Even though the deck has only been completed a few days we are already enjoying it. We would happily hire them again and we would definitely recommend them to friends and family.

- Patricia B.


We were very pleased with the work that Decks by Design did when constructing our new deck. The deck looks amazing! It was also a plus to have the owner on sight at all times and **** even worked up a design that was better than expected. The quality of the product and the work, would make us surely recommed them to our friends and family.

- Dave and Jill Chmura


Decks by design really delivered. They are very friendly and professional and really know their business. They do quality work with quality materials. Our deck was built in a timely manor. This company will not disappoint. I give them 10 stars out of 10.

- Becky P.


Decks By Design Company Information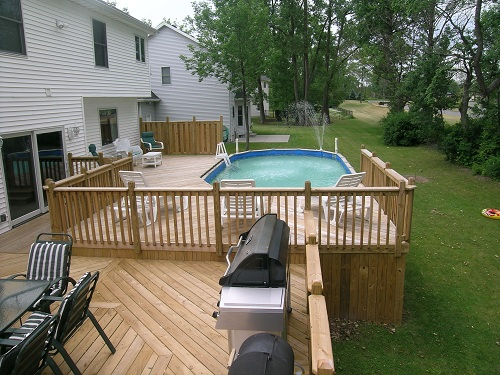 We would love the opportunity to come out and give you a free estimate!
Give us a call today and we will schedule a friendly visit.