About Us
A brief history and description of our company.
---
Who We Are
Welcome to Decks by Design! We are a family-owned and operated construction company. We take pride in the deck construction business. Paul E Summers Sr., founded the company in 1998. Since then, Decks by Design has built, rehabbed, and preserved many WNY decks and patios. Paul Sr. has worked in the construction field for almost 30 years, dating back to his father's business. Paul Jr., started in the business 5 seasons ago, and continues to grow with the company, bringing his 10 years of experience in the construction trade with him.

We enjoy educating each customer about the components of deck design and construction. Decks by Design ensures that our customers receive long-lasting enjoyment, and durability out of their investment. At Decks by Design, we pride ourselves on bringing the customer's ideas and designs to life. We understand that preferences, ideas, and outlooks vary from person to person, and we are happy to accomodate each unique view into the individual design and construction.

Decks by Design is a fully licensed and insured construction company. All work is guaranteed.

Decks by Design builds decks out of pressure treated lumber, and a very high quality composite system that boasts a lifetime limited warranty.
Decks By Design Company Information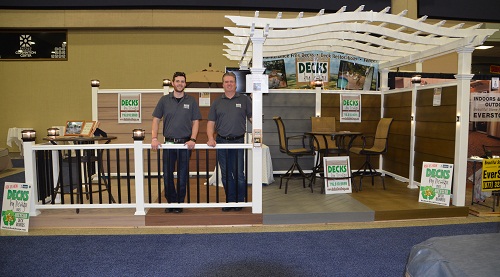 We would love the opportunity to come out and give you a free estimate!
Give us a call today and we will schedule a friendly visit.